Schedule
Online reservations are open!
Please review your preferred dates to see available sailing times. If booking a drop off tour, please ensure you schedule your departure from Tobermory and your return from Flowerpot Island.
Schedule
Gift Certificates
Give the gift of experience! Send your friends and family on a beautiful glass bottom boat tour to Flowerpot Island!
Purchase
FAQ
Do you have questions about our tours, boats or points of interest? Visit our FAQ page for more information.
FAQs
Our Fleet
Tobermory Evolution
First of all, allow us to introduce our newest and largest glass bottom boat, The Tobermory Evolution! This custom built vessel was delivered to us in July 2016. We had it built to provide the most impressive tour of Fathom Five Marine Park while ensuring the highest standards of passenger comfort. The Tobermory Evolution features two large glass bottoms, a large upper viewing deck as well as shelter from inclement weather and direct sunlight.
Tobermory Explorer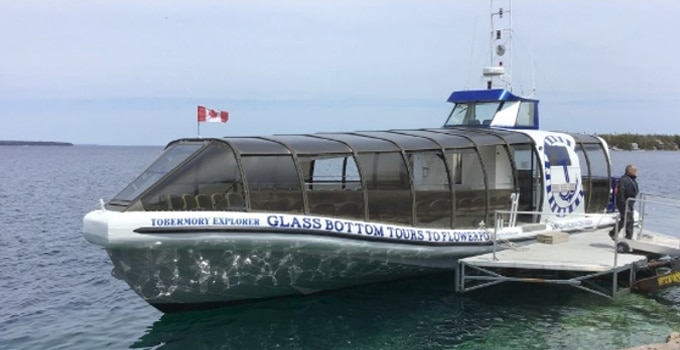 Explore Fathom Five National Marine Park onboard this Bruce Anchor Cruises exclusive cruise! Enjoy a weekday drop off option to explore and hike on Flowerpot Island. The Tobermory Explorer is a 75 passenger vessel. The Explorer has a fully heated cabin and washroom onboard setting the stage for a comfortable and enjoyable cruise. It also boasts a canopy to keep passengers out of the sun and not so nice weather.
Tobermory Crusader
The Tobermory Crusader is our fastest glass bottom cruiser. During the warmer summer months, the Crusader departs Tobermory and heads directly to Flowerpot Island where passengers disembark to hike and explore the island.
Tobermory Frontier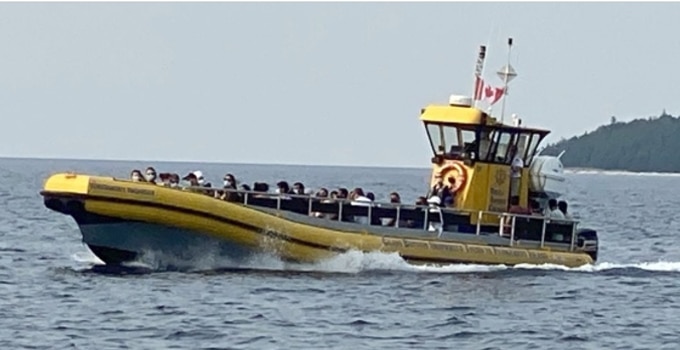 The Tobermory Frontier is a 50 passenger vessel. The Frontier features a canopy to protect passengers from the sun, wind and rain during the Spring & Fall sailings.