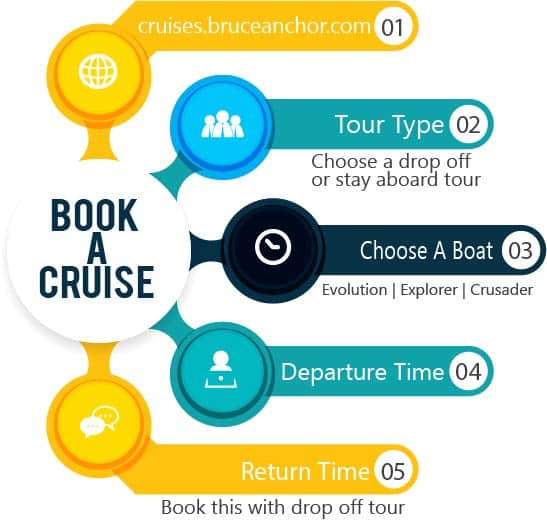 Book A Cruise
Notice: If our booking system is only allowing you to book one seat at a time, that sailing only has one seat remaining. We recommend choosing another tour time with more seating available for your group.
A Drop-off Tour views the shipwrecks, the flowerpots, and includes a stopover at Flowerpot Island. You will arrive at Beachy Cove, the drop-off point on Flowerpot Island, approximately 30-50 minutes after your departure from Tobermory. Since you are disembarking onto Flowerpot Island, you will need to purchase a National Park Pass that is valid for 24 hours. After your hike on the island, we will pick you back up from Beachy Cove at your pre-booked return time. The return ride is approximately 20 minutes back to our dock.
Face masks are mandatory.

A stay aboard tour is an excellent way to see the sights of Fathom Five National Marine Park from the water.
Our stay aboard tours view the *shipwrecks, flowerpots, and the light station. The hour long cruise sometimes includes a stopover at Flowerpot Island for the passengers that are disembarking, you will stay on the boat during this time.

*after 4pm tour does not see shipwrecks but takes guests on a Fathom Five Island tour.
Fathom Five Marine Park Tour
COVID-19 Update:
MASKS ARE MANDATORY.

We are looking forward to an exciting season here in Tobermory – and we can't wait to share it with you!
Bruce Anchor Cruises is committed to the safety and well-being of our guests, and employees. We know that many questions may arise with regard to COVID-19 and, like all of you, we've been monitoring the ongoing developments around the world and assessing the impact on our operations.
Bruce Anchor Cruises has always operated in a manner that ensures your safety, health and comfort. Not only do we have well-established cleaning protocols already in place, but this season you will notice the extra focus we have added to our cleaning and safety, such as:
• Hand sanitizer stations at ticket booth locations, customer services areas, and boarding areas
• Full disinfectant application before every departure
• Additional spot cleaning of high-touch surfaces on a frequent schedule
• Emphasis on preventative hygiene practices with our staff and guests
We want you to feel confident and secure when planning your trip with us. With that in mind, we will continue to plan our 2020 sailing season with your health and safety as our top priority. We also thank you for your understanding as we navigate through this unprecedented time.
When planning your travel to Bruce Anchor Cruises please note that there will be road construction along the way.  Refunds are not issued for missed sailings.