Book A Water Taxi
---
FACE MASKS ARE MANDATORY
NO SHIPWRECK TOURS AVAILABLE – WATER TAXI TO FLOWERPOT ISLAND ONLY
---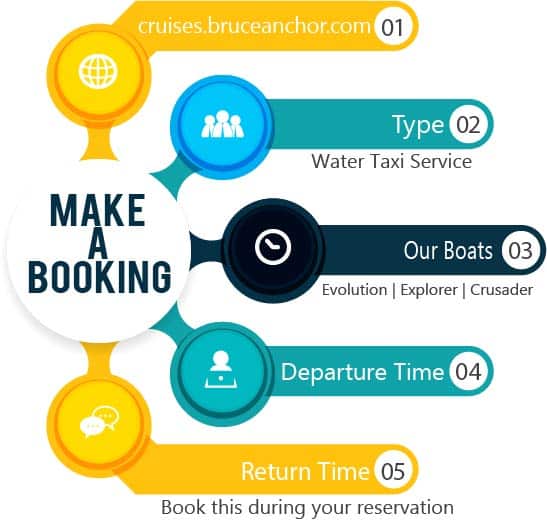 The tour type is currently unavailable for online bookings.  Please call 1-800-591-4254 to reserve.
A Water Taxi goes directly to Flowerpot Island without any shipwreck or scenery tour. The trip is 15 minutes each way.

COVID-19 Update:
 SHIPWRECK TOURS ARE CURRENTLY UNAVAILABLE AND MASKS ARE MANDATORY.

We are looking forward to an exciting season here in Tobermory – and we can't wait to share it with you!
Bruce Anchor Cruises is committed to the safety and well-being of our guests, and employees. We know that many questions may arise with regard to COVID-19 and, like all of you, we've been monitoring the ongoing developments around the world and assessing the impact on our operations.
Bruce Anchor Cruises has always operated in a manner that ensures your safety, health and comfort. Not only do we have well-established cleaning protocols already in place, but this season you will notice the extra focus we have added to our cleaning and safety, such as:
• Hand sanitizer stations at ticket booth locations, customer services areas, and boarding areas
• Full disinfectant application before every departure
• Additional spot cleaning of high-touch surfaces on a frequent schedule
• Emphasis on preventative hygiene practices with our staff and guests
We want you to feel confident and secure when planning your trip with us. With that in mind, we will continue to plan our 2020 sailing season with your health and safety as our top priority. We also thank you for your understanding as we navigate through this unprecedented time.
Upon Arrival:
In order to manage the spread of COVID-19, the Government of Canada, along with the provinces and territories have put in place recommended practices.
Prior to boarding our vessels you may be requested to undergo a health check. This will involve answering a few simple questions to which you must answer truthfully, temperature screening and hand sanitization.
During the voyage, face masks/coverings that cover your mouth and nose when you are outside your vehicle and in situations where you cannot maintain two metres of physical separation are mandatory.
When arriving at Bruce Anchor Cruises, you may be subject to further measures taken by the provincial or territorial government to prevent the spread of COVID-19.
As a reminder, no person shall board our vessels when they are exhibiting COVID-19 symptoms. Should symptoms such as a fever, cough or difficulty breathing develop while on-board, please notify the vessel crew immediately.
---