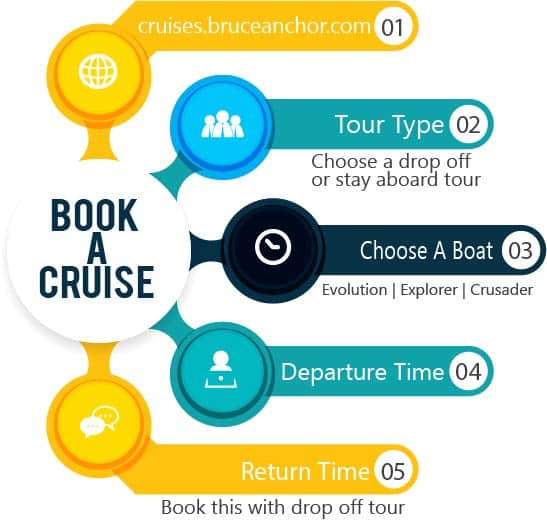 A Drop-off Tour views the shipwrecks, the flowerpots, and includes a stopover at Flowerpot Island. You will arrive at Beachy Cove, the drop-off point on Flowerpot Island, approximately 30-50 minutes after your departure from Tobermory. Since you are disembarking onto Flowerpot Island, you will need to purchase a National Park Pass that is valid for 24 hours. After your hike on the island, we will pick you back up from Beachy Cove at your pre-booked return time. The return ride is approximately 20 minutes back to our dock.

A stay aboard tour is an excellent way to see the sights of Fathom Five National Marine Park from the water.
Our stay aboard tours views the shipwrecks, flowerpots, and the light station. The round trip duration of the cruise is 70 minutes, this sometimes includes a stopover at Flowerpot Island for the passengers that are disembarking, you will stay on the boat during this time.
The tour type is currently unavailable for booking.  A Direct Shuttle goes directly to Flowerpot Island without any shipwreck or scenery tour. The trip is 15 minutes each way. This tour type is only available on weekends, as required.